USDA Research on Local Food Supply Chains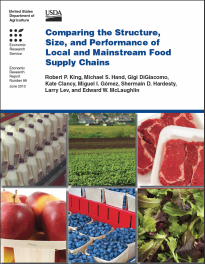 "Comparing the Structure, Size, and Performance of Local and Mainstream Food Supply Chains." is the latest and arguably the most important recent publication by the USDA's Economic Research Service. A report summary and the full report are are freely available in PDF format on the USDA ERS website.
Everyone... we repeat, everyone interested and participating in the local food movement – particularly farmers and local food supply chain processors and aggregators like the good folks at Kalona Organics and Local Harvest Supply – should grab a copy and mine it for the valuable insights and stats-rich information. But perhaps most importantly, we should pay attention to the subtle but provocative call to arms slipped in on page 69, "Priorities of Future Research." The phrase 'priorities for future research' is economic research lingo that can be translated to 'issues we practitioners need to address' and 'opportunities for us to bring creative solutions' to the marketplace. We'll have many more thoughts upon further reflection on this important contribution to the local food movement.
Our friend Andy Larson, ISU Extension expert focused on Small Farm Sustainability, brought this recent publication to our attention. Thanks, Andy!
For additional and Iowa-specific information, download the freely available published studies on local food supply chains by the Leopold Center for Sustainable Agriculture at Iowa State University. And don't hesitate to drop by the Center's Value Chain Partnerships website.